Trivia Tuesdays!
Take a break from work and join us at KMxDirect.com for a little fun and excitement! The winner of each weekly contest will be invited to compete in the series finals for our grand prize!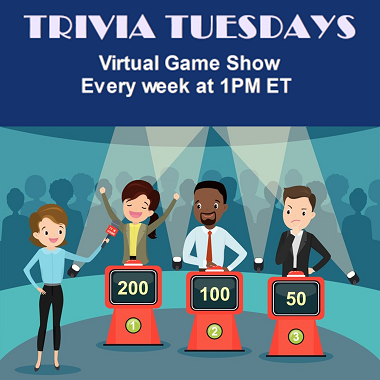 Trivia Tuesdays starts on March 23 and ends on May 25, 2021.
Every week at 1:00 PM ET we will select a new topic and conduct a live virtual game show at KMxDirect.com. We will preview new game show interfaces each week. Each game show event will be scheduled to take about 30 minutes.
Events will be delivered using KMxGames with KMxLive.


Unlike virtual meeting room technologies, KMxLive provides the ability to deliver measurable interactive training content to participants. KMxLive can deliver slides, exams, games, surveys, polls, forms and eLearning lessons.
KMxGames provides clients with the ability to deliver existing exams, test items and quizzes as interactive games with full SCORM tracking. The KMx Game Engine is integrated with KMxLive to enable moderators to conduct live competitions during a virtual classroom event.
Complete the form below and we will email you our product literature.