KMx Version 12 Updates
Our latest release of KMx marks the culmination of 18 years of experience providing our customers with the latest technologies and the features they request. KMx Version 12 provides significant new learning development and management capabilities that simply are not available from competitive offerings.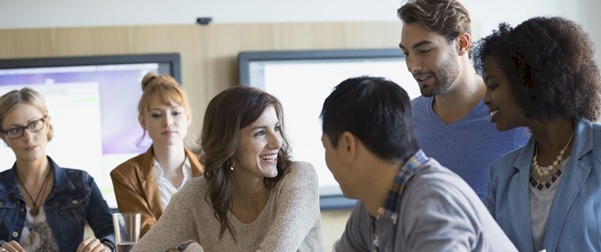 New Features Available in KMx Version 12
KMxLive Virtual Classroom Technologies
This exciting new technology provides capabilities that are not available from any competitor. KMxLive provides the ability to deliver measurable interactive training content to participants and monitor their individual progress. KMxLive can deliver exams, surveys, polls, interactive simulations and eLearning lessons. KMxLive is fully integrated with the KMx LMS/LCMS and supports all blends of learning.
KMxLive Interactive eLearning
Another exciting new feature that is not available from any competitive offering enables interactive elements (exams, games, eLearning and microlearning lessons) that are pushed to attendees during a KMxLive event to be included in the system generated replay. On-demand replay users receive the full experience of the live attendees, including the ability to interact with elements delivered during the live event as if they were actually there. This also includes individual system generated performance feedback, inclusion on leaderboards, remediation and moderated forum technology.
KMxGames
Yet another exciting new feature that is not available from any competitor provides clients with the ability to deliver existing exams, test items and quizzes as interactive games with full SCORM tracking. The initial release includes three game interfaces that provide compelling interactive game play with animations, audio, video and leaderboard segments. The KMx Game Engine is integrated with KMxLive to enable moderators to conduct competitions during a live virtual classroom event.
KMx Course Development Tools
With our new cloud-based tools, there is no limit to the number of authors that can develop learning programs with KMx. This new technology leverages the popular WordPress HTML5 editing interface augmented with all the features required to create compelling, SCORM conformant eLearning programs and training simulations. Unlike competitive solutions, developers are not required to install software on their workstation or upload completed programs to the learning management system. KMx is a fully integrated solution that enables anyone to quickly develop new programs.
KMx Class/Activity and Scheduling Tools
KMx Version 12 now provides the industry's most robust tools for managing scheduled training events, including instructor qualifications, classroom/virtual classroom assignments, resource management and activity management.
KMx Mobile Apps and Interfaces
With KMx users can access courses, KMxLive virtual classroom events, learning objects, exams, games, surveys, performance evaluations and much more using their Apple, Android or Windows device with full SCORM learning management capabilities.
Updated Features and Capabilities
KMx Exam & Testing System
KMx provides the industry's most comprehensive exam development and delivery engine. The exam engine is supported by extensive reporting tools and is suitable for high-stakes licensing and certification programs. With KMx Version 12, we have introduced a host of new capabilities to support the delivery and administration of high-stakes exams, including the ability to deliver proctored exams in a virtual testing room environment.
Expanded Reporting & Visualization Tools
KMx provides the industry's most comprehensive tools for providing actionable data in a myriad of display types. Leveraging any data element, administrators can quickly design reporting tools that automatically adapt to accessing user's authority, role, permissions, location and other structured hierarchies. Reports, charts, maps and other visualizations are interactive and provide drill-down features to enable your managers and supervisors to not only have the information they need, but also act on that information by linking to forms, performance evaluations, communication tools (email templates, notifications and end-user on-screen messaging). With customizable authority and access levels, KMx provides an end-to-end solution for any size enterprise with any level of complexity.
It's Time to Switch to KMx
In addition to providing the features and capabilities that your organization needs, KMx provides significantly lower annual pricing regardless of the number of end-users and has an initial acquisition cost that is thousands of dollars less than our competitors.
With our KMxSaaS offering, small and medium size organizations can provide all of the capabilities and features of KMx for only $1,000 per month. Large organizations can opt for our KMxASP service and reach unlimited users for less than $36,000 per year.
KMxSaaS and KMxASP both provide full implementations of KMx as a hosted service that are perfect for corporations, government agencies, retail organizations, manufacturers, franchises, educational institutions and associations.
KMSI is one of the only major providers that can offer its solution as a software license agreement to enable the customer to complete quot;behind the firewall" integrations, customizations and software extensions. With a KMx Enterprise unlimited use license, our software can be installed at the customer site or securely hosted in our state-of-the-art data center.
Complete the form below and we will email you our product literature.