Use Microsoft PowerPoint to Create SCORM Conformant eLearning!
It is now easier than ever to use Microsoft PowerPoint and Excel to create SCORM
conformant eLearning. KMx fully automates the import and conversion of
Microsoft Office ® files:
Maintains all native animations, interactivity, branching, indexing and more.
Creates extremely bandwidth friendly runtime files that can include
graphics, audio, video, flash and more.
Enables editing in Microsoft Office ® post conversion.
Provides Shareable Content Object Reference Module (SCORM)
book marking, session time management, completion status and more.
Provides fully SCORM conformant reusable learning objects.
Enables courseware developers to
use MS PowerPoint ® to create
compelling eLearning that rivals
the output of eLearning authoring
suites, without any programming.
Download our FREE Microsoft PowerPoint eLearning Template and Tutorial. Download Now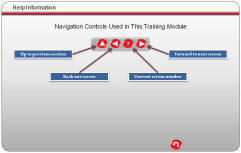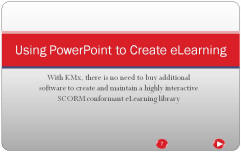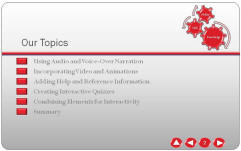 Microsoft PowerPoint slides may include voice-over narration, animations, interactivity, branching, indexing and media.
---
Use Microsoft Excel to Create Comprehensive Exams!
KMx provides a comprehensive testing and examination system suitable for high-stakes exams:
Extensive test item types including true/false, multiple choice 3-9 answer, fill-in, likert scale, matching, drag & drop, sequencing and drop-down.
Pool and specification based test item randomization.
Test item answer randomization.
Timed testing.
Proctored testing.
Scored, un-scored and weighted testing.
Complete test item and test reuse with fully independent weighting, retake, pre-requisite management and test item response analysis.
Use of supporting media including audio, video, flash, graphics, supporting documentation and more.
Enables authors to provide end-users with test item remediation, rationale, references and more.
Enables behavioral indexing of all test items and their use for organizational analysis, competency and talent management and more.
Test questions can be imported in to KMx in the form of a Microsoft Excel Spreadsheet. KMx will produce a SCORM Content Aggregation Package of the converted courseware, ready to deliver via the KMx Learning Management System or import into a third-party SCORM conformant Learning Management System.
---
Call (866) 501-5674 for information or to schedule a demonstration.
Copyright © 2002 – 2018 Knowledge Management Solutions, Inc.